Blueberry Golden Oat Muffins
ciao4293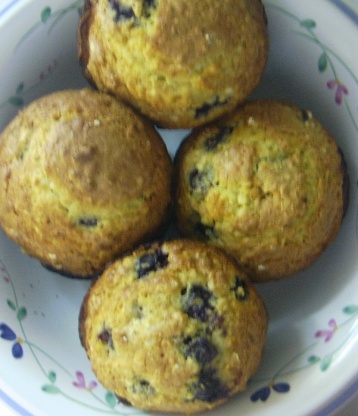 Super easy recipe, adapted from Duncan Hines. A nice muffin with a bit of oats in it, and the blueberries add a nice bit of sweetness. You can make regular or jumbo sized muffins(see note in instructions). I forgot to add the berries in the ingredient list--until the correction goes through, it should list 2 1/4 cups of berries. ;)

These were definitely easy. Mine didn't rise as much as the picture, either, and I used quick oats as well as everything else as described. I'm fussy, but I could tell from the taste that they were made with a cake mix, but they were still good.
Grease 24 (2 1/2 inch) muffin cups, heat oven to 400°.
Toss the berries with about 3 tbsp of the cake mix.
Mix remaining cake mix with oats and salt in a large bowl.
Add milk, eggs and the melted butter, stir just until moistened.
Fold in the blueberries.
Fill muffin cups 2/3 full, bake for 13 minutes or until golden brown.
Cool in the pan for about 5 minutes, loosen edges and remove from pan.
***Note***I used large muffin pans for jumbo sized muffins--bake at 350° for about 30 minutes--then start checking for doneness with a tester.
I got 9 large muffins.