Debber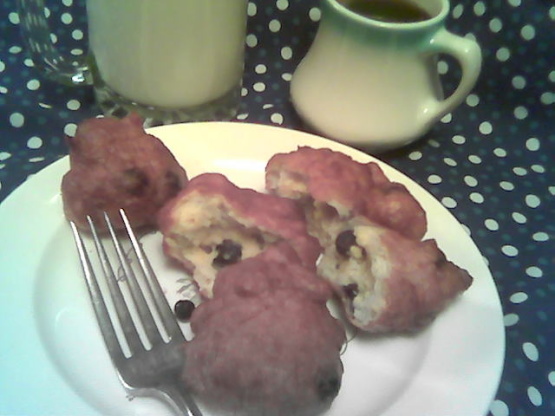 This recipe was found in my Mother's Recipe Box : ). Cooking time also includes chilling time.

Top Review by Debber
What a nice way to start the day! The kids and I loved 'em sprinkled with a light dusting of powdered sugar and then a drizzle of maple syrup (didn't have blueberry). I've never made fritters before, but have donuts, and these fry up quite similarly, except looser--so they spread out more in the oil. Would definitely make again and use other fruits too. Oh, and I used frozen blueberries, and they seemed to work beautifully!
Sift together flour, baking powder, sugar and salt together.
Make a well in the center of the dry ingredients and pour in milk.
Add lightly beaten egg yolks.
Blend together till batter is smooth (add a little more milk if needed to make the batter smooth).
Fold in fresh blueberries.
Fold in stiffly beaten egg whites.
Chill, covered, for 30 minutes.
Form into fritters by making balls with two spoons dipped into hot water, and deep-fry (375 F) until golden brown.
Serve with blueberry syrup.