MomLuvs6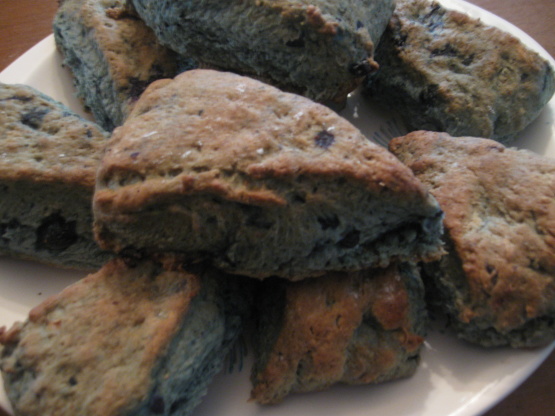 Quick and easy, these are still delicious. I love these warm from the oven with butter and lemon curd!

These were wonderful scones! We love scones with fresh fruit and real butter!!! Yum! Made them for breakfast this morning! Easy and if one follows the directions and uses fresh blueberries... you won't have any problems. This recipe is deserving of the five stars. To not follow the recipe and complain that the results are less deserving is ludicrous to me. Thank you for a great recipe! Always, Jelly :)
Preheat oven to 425°F Grease a baking tray or line the baking tray with parchment paper.
Mix the flour, sugar, baking powder, baking soda and salt together. Cut in the butter until the mixture resembles fine breadcrumbs. Stir in the blueberries.
Add the milk and mix to make a smooth dough (you may not need all of the milk). Knead lightly for ten seconds on a lightly floured surface. Roll to about 3/4" thick and either cut into individual scones or cut into wedges.
Bake for approximately 8-12 minutes.