Karen..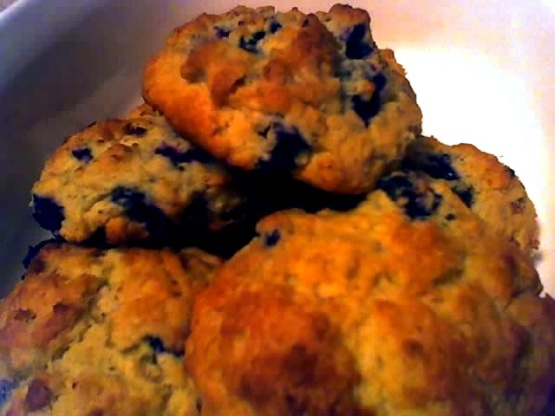 These are served at "The Talk of the Town" diner in Watertown, MA and the recipe was in todays paper. They sound like a yummy way to enjoy blueberry season!

Pick a Chef 2005: These were tasty and the texture was lovely but not quite sweet enough for our tastes. Also, the 425 for 15-18 was a little too long in my oven (normally I don't have a problem with this). They were already over browning on the bottom after 10 minutes, so I raised the oven rack. I only left them in another 4 minutes and the bottoms still came out a little too brown. I am going to make Strawberry Shortcakes out of the rest with sweetened strawberries and whipped cream and I think that will make a nice combination. I will make these again but I will sprinkle some sugar on top before baking and reduce the oven temperature.
Combine flour, baking powder, baking soda, sugar and salt.
Cut butter into mixture (it will be crumbly).
In separate bowl, combine milk, vanilla, egg and vinegar- mix thoroughly.
Add the milk mixture into the flour mixture and stir gently.
Add blueberries.
Using a large spoon, drop 10 mounds of batter onto a baking sheet covered with parchment paper.
Bake at 425 for 15 to 18 minutes or until golden brown.
Cool on wire rack- serve warm.