Blueberry Drink Syrup for Blueberry Iced Tea
Brenda.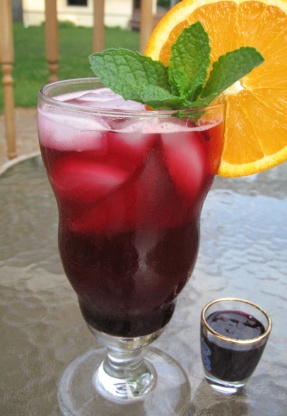 A refreshing change from ordinary iced tea. I bet it would be good added to some other drinks also...blueberry lemonade maybe???
I just wondered - how much of this syrup would you add to, say, a gallon of iced tea for a good, strong flavor?
Place blueberries in a saucepan with water. Bring to a boil, reduce heat and simmer 10 minutes.
Set sieve or colander lined with cheesecloth (I use a thick papertowel) over a bowl and pour in the blueberry mixture.
Gently press out the juice with a spoon or by twisting the cheesecloth. Discard the pulp and measure the juice into saucepan.
Add 1/2 cup sugar for each cup of juice and cook over medium heat, stirring until sugar is dissolved.
Bring to a boil and cook 2 minutes.
Chill and pour into covered jar. Store in refrigerator.
Add two tablespoons to each glass of prepared iced tea. Stir well and garnish with a lemon slice.