Rita1652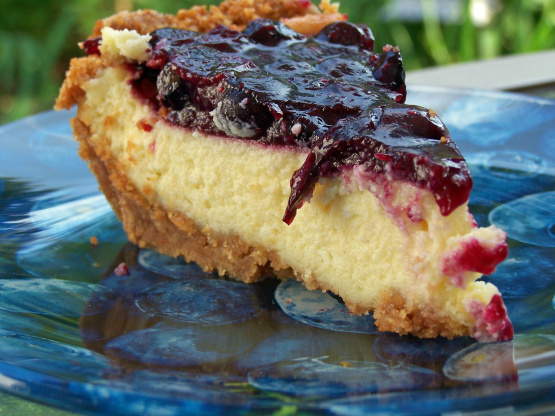 From Toni at Hope Lodge, a real shining light. This is the best blueberry cheese cake you will eat; everyone should put this in their cook book.

In my opinion this recipe was just right on the sweetness scale. It was rich, creamy and delicious. I made a 1/4 amount which is really all I dare have on hand. The change's I made was to use Splenda for the sugar and the fresh picked blueberries from the Hutterites were sweet, juicy and perfect in this lovely recipe in place of the pie filling.
For the crust, mix the graham cracker crumbs, sugar, cinnamon and melted butter together with a fork until well blended and crumbly. Press mixture into a 9x13 baking pan.
For the filling, cream together the cream cheese, sugar and vanilla. Add eggs and beat well.
Bake at 350 degrees Fahrenheit for 25 minutes. Do not overbake. Mixture will set up as it cools.
When cool, completely cover with blueberry pie filling.
Chill overnight.