PaulaG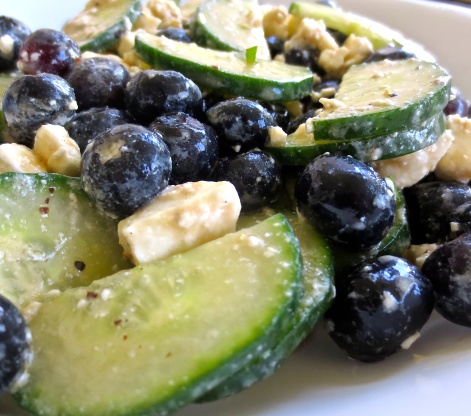 This is so light and colorful, low calorie, and refreshing.

This recipe was just so so for me. I didn't care for the combination of cucumbers, blueberries and cheese as well as I thought I would. the balsamic vinegar was a bit too harsh for the blueberries IMO. I think this would be a good recipe minus the blueberries. A colorful salad it is!!!
Made for My3Chefs.~
salt and pepper, to taste
1⁄2 pint blueberries
balsamic vinaigrette, white, to taste, about 1/2 cup
1⁄2 cup feta cheese (or more)
Peel, seed and quarter cucumbers; place in a bowl.
Add salt and pepper to taste.
Add blueberries, balsamic vinaigrette to taste, and feta cheese.
Serve.