Ceezie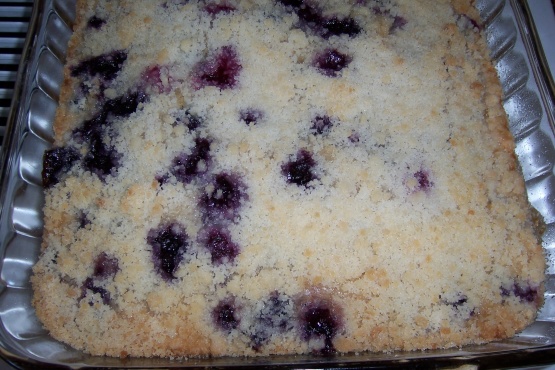 This yummy crumb cake gets put together the night before to make your morning easier! Blueberries contain beneficial anti-oxidants so have another slice! From the Schramm House Bed & Breakfast, Burlington, Iowa. Time does not include storing in refrigerator overnight.
I poured the batter in, layered the berries on top, then sprinkled on the topping. I also added a touch of maple syrup to the topping. Delicious! For ZWT4 Flying Duchess'
Sift flour,sugar,baking powder and salt. Cut in butter using a pastry cutter or two knives. ( I pulsed it all in my food processor in the order listed).
Mix together milk and eggs and mix into to dry ingredients.
Fold in berries and spread in a 13x9 greased or sprayed pan. Cover and refrigerate overnight.
Mix together topping ingredients and keep in a small bowl until ready to bake.
In the morning or next day, Spread topping over batter and bake uncovered for about 25 minutes at 375 degrees until topping is lightly browned and a toothpick comes out clean when inserted in the center of the cake.