Ms B.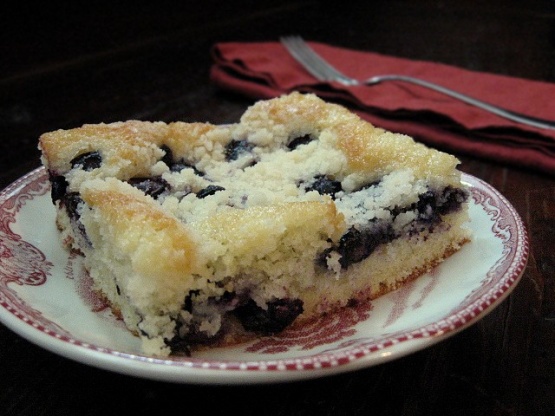 A moist, lightly textured cake. Can be served at brunch, breakfast, snack, or as dessert. A great way to use up those summer blueberries!

What a wonderful cake. So light and easy to make. We just can not get enough of this cake. Thanks for sharing.
In a large mixing bowl, add flour and sugar.
Cut in butter until it looks like small pea size crumbs.
Reserve 3/4 cup of crumb mixture and set aside.
Add baking powder, salt, the 2 egg yolks, milk, and vanilla to the remaining flour mixture.
Beat for 3 minutes.
Beat the 2 egg whites until stiff but not dry and fold them into batter.
Spread batter into lightly greased and floured 9x11 pan.
Arrange blueberries over batter.
Sprinkle with reserved crumb mixture.
Bake at 350 for 40-50 minutes.
Serve warm or cooled.