Blueberry Crisp (Diabetic)
karen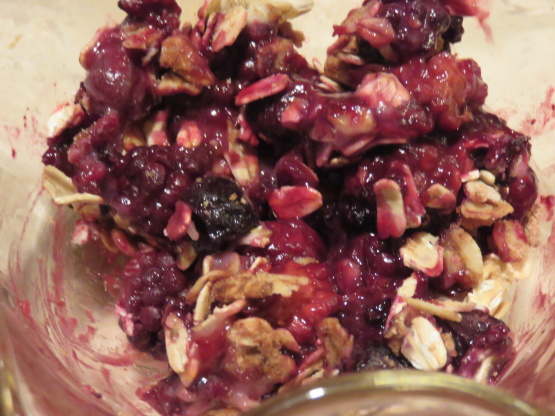 Although I haven't tried this yet, it sounds great.

Diabetic? With white flour, sugar and brown sugar....I don't think so! These ingredients all trigger glucose spikes. Something with almond flour, flax and eggs would be better for diabetics. Consider a label change.
Filling

2

cups unsweetened blueberries, fresh or 2 cups unsweetened blueberries, frozen, thawed and well-drained

1

tablespoon flour

1

tablespoon sugar

Topping

1⁄2 cup old fashioned oats, slow-cooking

1

teaspoon cinnamon

1

tablespoon flour

1

tablespoon brown sugar

2

tablespoons butter, melted
Filling:.
Toss together flour and sugar.
Mix together with blueberries and place in a 9x9 inch glass baking dish.
Topping:.
Mix all topping ingredients together.
Sprinkle on top of blueberry filling.
Bake at 350 degrees for 45 minutes.
Makes 6 servings.
Per Serving:.
110 calories 17 g. carbohydrate 1.5 g protein 2 g fiber 0 g fat.