rpgaymer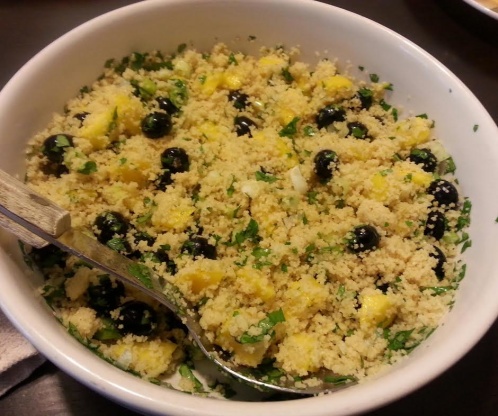 Recipe source:Natural Awakenings Magazine but credit was given to Dricolls.com recipe library
I really liked this, although I made some changes because I was serving the couscous with an Asian-style chicken dish. I used cilantro instead of mint, lime juice instead of lemon juice, and green onions instead of red onions. Very tasty and visually appealing.
Combine oj and water and 1/4 teaspoon salt in saucepan, bring to boil over medium heat and then stir in the couscous; cover; remove from heat and let stand 5 minutes. Transfer to bowl and dfluff witha fork; cool 10 minutes.
Stir in remaining 1/4 teaspoon salt and the remainder of the ingredients.
Toss to mix well.