Blueberry Coffee Cake-You Won't Even Know That It's Healthy!
Prep 10 mins
Cook 30 mins
This receipe came out of many different attempts to make a healthier coffee cake. Enjoy!
Directions
1. Preheat oven to 350 degrees. Lightly coat 9"x9" pan with Smart Balance spread.
2. Mix dry ingredients separately.
3. Mix together eggs, sour cream, vanilla and lemon zest.
4. Mix wet and dry ingredients together.
5. Spread mixture into pan and top with blueberries.
6, Sprinkle topping mixture on top of blueberries.
7. Bake for 28-30 minutes. Yum!
Most Helpful
This is a very tasty, and healthy, coffee cake. It is nice and moist, too. I felt good about serving this to my family. Thanks for posting! ~Made for the Spring 2010 Pick-A-Chef~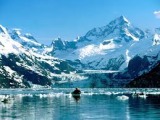 What a lovely cake this made Oregon Cook, my dh was in cake heaven. He loves blueberries and this was perfect for him. I didn't feel bad when he took a huge piece. The coffee cake was quick and easy to make, not too sweet with an interesting chewy texture. Made exactly as written, using frozen wild blueberries. I made this for the Fall Pac Orphanage 2011.