JonIvy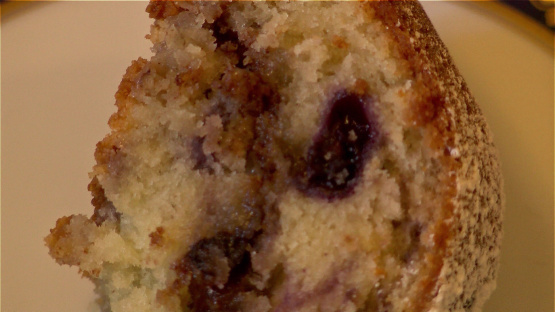 Delightfully chewy coffee cake with a surprising slight crunch.

The photo looks yummy! I don't usually rate recipes without trying them first, but I'm attempting to offset the fake rating of Fenikals, who has obviously been spamming this site with fake ratings. Today is 12/16/14 at noon and he/she already has multiple "ratings" of recipes that were just posted.<br/><br/>That being said, I love blueberries and coffee cake so I will definitely be making this in the near future!
In a large bowl, add butter, sugar and use a hand mixer to cream; add eggs and mix inches Fold in sour cream and vanilla. In a separate bowl, mix dry ingredients. Add dry ingredients to wet ingredients and fold it inches Then use the hand mixer to mix until smooth. Fold in blueberries.
Use Baker's Joy and grease the bundt pan well. Pour 1/3 of the batter in the pan and smooth out. Combine brown sugar, cinnamon and nuts for filling. Sprinkle 1/2 the filling over the batter, then 1/3 more batter, remaining filling and remaining batter. Bake at 350 degrees for 55 to 60 minutes. Cool in pan. Remove from pan by flipping it onto a flat surface (cake stand works great). Sift powdered sugar over top. Serves 12 to 16.