Prep 10 mins
Cook 30 mins
I'm always on the lookout for blueberry recipes to use up some of my wild Maine blueberries. This one was found on the net, unfortunately I don't remember the site.
Directions
In a medium mixing bowl, blend together 1 1/2 cups flour, sugar, baking powder, salt, oil, milk, egg and 1 cup blueberries. Beat thoroughly for 30 seconds and spread in a greased round 9x1-1/2-inch pan or an 8x8x2-inch pan.
Combine 1/3 cup flour, brown sugar, cinnamon and butter. Sprinkle over batter and top with the remaining berries. Bake in a 375F oven for 25 to 30 minutes, until done. Don't overbake.
Most Helpful
This is a most excellent coffee cake. Did not change a thing. Made for Theirs Yours Mine Photo Tag Event. :)

I have a very happy family right now, thanks to your blueberry coffee cake! It is simply delicious. I used a 10 inch pie dish and the batter rose beautifully, high and rounded. The texture of this coffee cake is sublime; including a moist, light center and crispy, flavorful topping. I used one pint of blueberries (which was closer to only 1 cup), reserving about 1/4 cup for the topping. I thought it had plenty of berry goodness throughout! For the topping, I sliced the cold butter into bits and lightly crumbled it in with the topping mix. I will definitely be making this coffee cake again (and again....)! ~Made for Oct. Aussie/NZ Swap~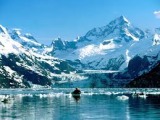 I was searching for a recipe exactly like this and so happy I found it. I wanted something easy and delish and this didn't fail. I have made this twice with frozen blueberries. The blueberries were huge! One of my biggest pet peeves is when someone reviews a recipe with so many changes it's not even close to the original. Well now I am here doing something similar, but not much. Both times I made this I added a teaspoon of vanilla and left off the topping. I did sprinkle some turbinado sugar on top before baking. I also added an extra splash of oil. Both times I made this the blueberries sunk to the bottom and it was like a layer of blueberries with cake. The second time I mixed the blueberries with flour first and it didn't seem to help at all. I will at some point make this with fresh berries and ill see what happens. I am wondering if they sank because they were frozen and so big. In any case, this is one of those recipes I will use a lot. Thanks for posting!