Blueberry Cobblers for Two - 4 Ww Points
CoffeeB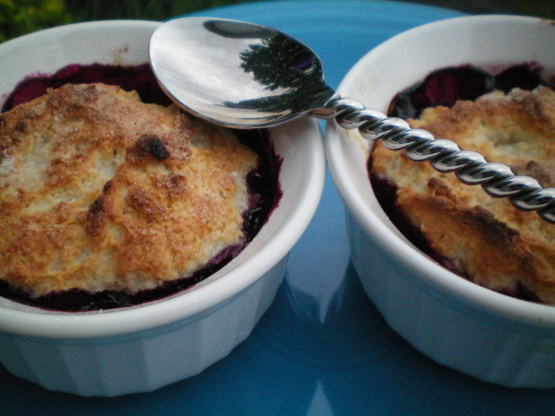 From Weight Watchers Dining for Two. Great for a romantic dinner for two. The original recipe called for fresh ginger, however, I substituted crystallized ginger.

I needed to make a low-calorie, last-minute dessert for dinner guests and found this recipe. It was really good! I doubled the recipe, and used the homemade baking mix recipe # 357101. The guests really liked it, and I stayed "legal".....thanks for posting it, KelBel. I will make this again.
Preheat oven to 450. Spray two 6oz custard cups with non-stick spray.
Combine blueberries, sugar, ginger, lemon zest and juice and cinnamon. Divide between custard cups.
Combine together Bisquick and milk in small bowl. Spoon over blueberry mixture. Sprinkle with sugar.
Place on baking pan and bake 20 minutes until golden and bubbly.
Serve with vanilla ice cream.