Annacia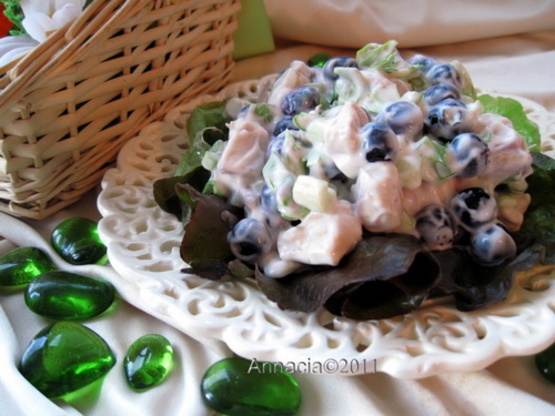 I found this recipe in a TOH bonus book and it sounds great. I am always looking for ways to add extra fruit or veggies to or meals. It sounds like a nice cool summer meal that I can't wait to try in a pita or croissant. I think this would be a great appetizer on endive leaves.

Loved this salad. I prepared the chicken using this method--recipe #234465. Used my dad's homegrown blueberries. The lemon yogurt/mayo dressing was a nice light touch that didn't overpower. Perfect summertime lunch. Thanks for sharing.
Set aside a few blueberries for garnish.
In a large bowl, gently combine the chicken, celery, red pepper, onions and remaining blueberries.
Combine the yogurt, mayo and salt; drizzle over the chicken mixture and gently toss to coat.
Cover and refrigerate for at least 30 minutes. Serve on lettuce-lined plates if desired. top with reserved blueberries.