Lunybuny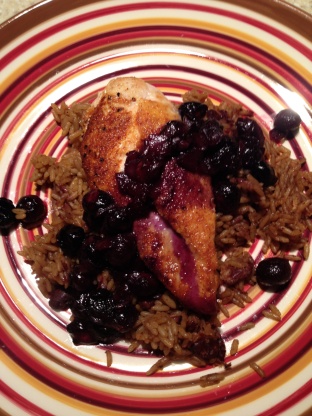 From the Williamsburg Farmer's Market website
This was a fun recipe! When making the sauce, I decided to use leeks in addition to the onions and garlic, and it was a wonderful addition. It ended up tasting better than I thought it would. I was pleasantly surprised. Thanks for the recipe!
Dust chicken breasts with cajun spice.
Saute in olive oil over medium high heat until brown and cooked through (about 10 minutes).
Remove chicken from pan and keep warm.
In pan, saute onion and garlic until translucent, careful to not overcook garlic, scraping the bits from pan.
Add wine and cook until reduced by half.
Add blueberries, lemon zest, salt, and pepper.
Simmer for 5 minutes, let rest off heat for 5 minutes to let flavors develop. Serve over the chicken breast.