Blueberry Cheesecake Dessert
Lvs2Cook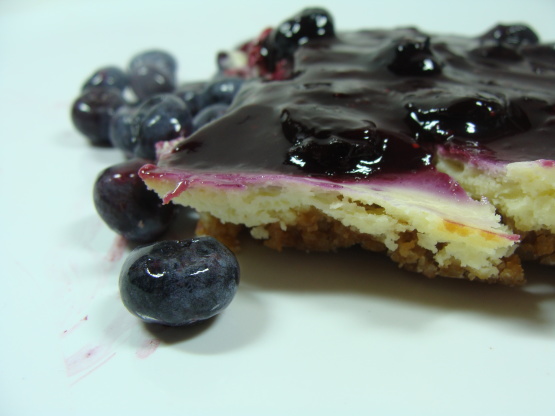 This has been one of my favorites for years. I made it for my inlaws when my husband and I were dating. It was such a hit, I knew I was "in" when his grandmother asked me if she could share some with her friends at Bingo.

Top Review by Tunnia
My husband loves cheesecake and I wanted to make him a special dessert for our anniversary. I didn't have a lot of time that day so this recipe was perfect! It was delicious and looked like I spent way more time making it than I did. I followed the recipe exactly. The only thing I'd consider changing for next time is that I might make the cheesecake layer a little thicker by making it in a 11X7 pan instead of a 8X13.
Preheat oven to 375 degrees.
Mix graham crackers, 1/2 C sugar and melted butter in a 9x13 pan.
Beat eggs, vanilla, cream cheese and 1/2 C sugar until creamy.
Pour onto crust and bake for 15 minutes.
Cool.
Heat blueberries, 1/3 C sugar, water, cornstarch and lemon juice in a small sauce pan until thick (will coat the back of spoon).
Pour over cheesecake mixture and chill.