Blueberry Cheesecake Bars
GaylaJ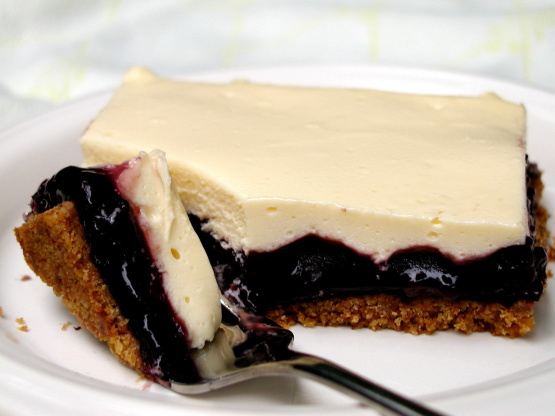 Easy summer dessert from Kraft. I actually made these as blackberry, rather than blueberry, and substituted a 21-ounce can of blackberry pie filling I had on hand for the jam and the blueberries.

These turned out great! They were simple to put together and very tasty. I added a bit of contreau to the cheesecake mixture, which was a nice addition. Thanks for sharing!
Preheat oven to 350°F Combine butter and graham cracker crumbs and press firmly and evenly onto bottom of 9 X 13-inch baking pan.
Beat cream cheese until smooth. Add sugar, eggs and vanila, beating until well blended. Set aside.
Stir jam until softened and spread evenly over crust; sprinkle with blueberries. Top with cream cheese mixture.
Bake 30 minutes or until slightly puffed. Cool completely in pan.
Refrigerate leftover bars for up to 3 days.