Blueberry Buttermilk Waffles
COOKGIRl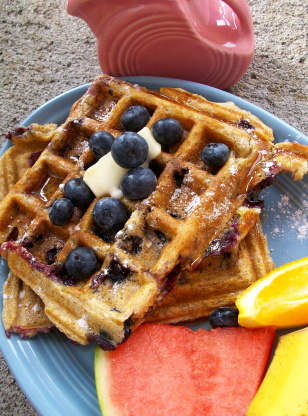 These are just too darn good not to share. Dave thought these were the best waffles he had ever tasted. They are very quick and easy to prepare.
Loved this recipe! Did make a few small changes... increased blueberries to 1 1/2 cups, substituted lowfat buttermilk for milk & added a splash of vanilla. So fluffy & moist, can't wait to make them again!
In a mixing bowl, mix flours, baking powder, baking soda, salt and sugar.
Add in the eggs, buttermilk, melted butter and vanilla.
Gently fold in blueberries.
Spray waffle iron with Pam.
Pour approximately 1 cup of batter onto a preheated waffle iron.
Cook until steaming stops and waffles are nicely browned and crisp.