Blueberry Buttermilk Pancakes
Prep 10 mins
Cook 20 mins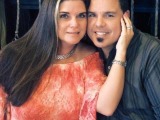 Recipe courtesy of Bon Appetit, July 2007.
Directions
Preheat oven to 250°F
Place baking sheet in oven.
Whisk first 4 ingredients in large bowl.
Whisk buttermilk, eggs, and 2 tablespoons butter in medium bowl; stir into dry ingredients.
Fold in berries.
Heat large nonstick griddle or skillet over medium heat; brush with butter.
Drop batter by 1/3 cupfuls onto griddle.
Cook pancakes until brown, brushing griddle with more butter as needed, about 3 minutes per side.
Transfer to sheet in oven to keep warm.
Serve pancakes with maple syrup.
Most Helpful
These were a great treat last night for supper. My blueberries were kind-of big, so they had lots of berries in them. I made as is except I omitted the melted butter and used egg beaters. YUMMY!