Blueberry Buttermilk Oatmeal Pancakes
Ms B.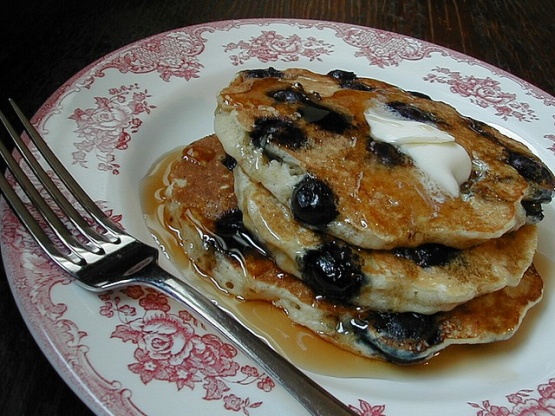 DBF loves pancakes, oatmeal and blueberries, so why not combine them all. The oatmeal gives the pancakes a different texture but also makes them somewhat "heart-healthy." I you prefer your pancakes normal color and not purple, use the optional method for adding the berries.

I accidentally used a cup & 1/2 instead of 1/4 of oats and it still turned out fine. The first time I made them I found the batter really runny but maybe I used too much butter, but also, the 2nd time around I let the oats soak in the milk for about 10 minutes and that seemed to really help soak up some liquid. I also added about 1/4 tsp of baking powder to help the pancakes puff up more, which worked great. I increased the sugar by 1/2 T as well. These are super hardy yummy breakfast and I'll continue to make them! Thanks!
Mix oatmeal and buttermilk.
Add eggs.
Combine dry ingredients separately.
Add to the oatmeal mixture.
Stir in the butter.
Gently stir in the blueberries (or add 10-12 blueberries to each pancakes after pouring the batter on the griddle).
Cook on hot greased griddle until bubbles show through.
Flip and cook on other side until golden brown.