Kathy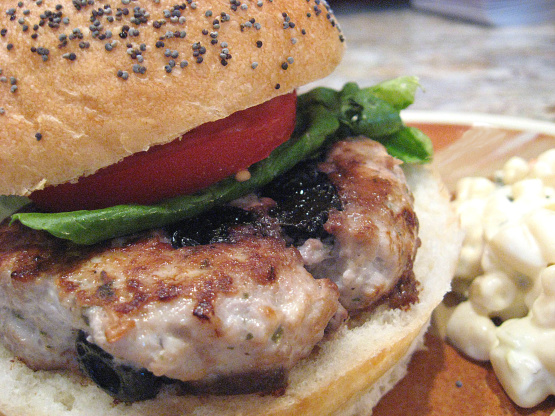 This is a quote from the washingtonpost.com - "Blueberries add cancer-fighting antioxidants to the patties and may slightly reduce the fat content of burgers. They also help make burgers that are made from drier, leaner ground beef, chicken or turkey into a juicier product." When making this burger you can use fresh blueberries. Omit the freeze-dried and wait until you finish with step #3. Then add the blueberries folding in gently, being careful not to mash or break. The burger really looks good when you use the fresh berries. You can also add 1/8 tsp. chili powder, 1/2 teaspoon hamburger seasoning, a pinch of cayenne 1/2 Tablespoon minced onion, 1/2 Tablespoon parsley. If you add these things add 1/8 of a cup of milk. Otherwise just use the simple recipe below.

We have made these with beef for years, but I wanted to try the turkey. Both the DH and I do not like the blueberries in the turkey. We use fresh blueberries and it just didn't taste right. I am going to try it with dried cherries or dried cranberries because we love them in beef and it might work with the turkey. Thanks for posting.
Place the freeze dried blueberries in the bowl of a food processor and pulse until powdered.
In a large bowl, combine the blueberries with the beef, salt and several turns of the pepper mill.
With your hands or a wooden spoon, mix the beef until all the ingredients are evenly incorporated.
Form into 4 burgers. Pan-fry or grill according to taste. Do not flatten while cooking and only flip once.
Add the cheese (if using) about 2 minutes before the end of the cook time.
Place the burgers on buns and serve with ketchup, chili sauce, or your favorite toppings.
Makes 4 burgers.