Prep 20 mins
Cook 35 mins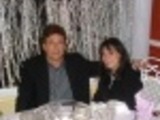 This recipe just screams "summertime", with some sweet nectarines snuck in with luscious blueberries!
Directions
Heat oven to 375 degrees. Butter an 8-inch-square baking pan.
Beat butter in mixer bowl until creamy. Gradually beat in sugar, then beat until light and fluffy. Add egg, vanilla, and orange zest and mix until blended. Stir in milk.
Mix flour, baking powder, and salt; stir gently into butter mixture.
Pare nectarines. Cut into 1/2-inch-thick slices, then cut slices crosswise into thirds. Toss nectarines with lemon juice in mixing bowl. Add blueberries and combine. Fold fruit into batter. Pour into prepared pan and smooth top.
Mix flour, granulated and brown sugars, butter, and cinnamon with pastry blender until mixture resembles coarse crumbs. Sprinkle over batter.
Bake until toothpick inserted into center comes out clean, 30-35 minutes. Cool 15 minutes. Cut into 9 squares and serve warm.
Most Helpful
This is a pretty good buckle. It isn't very sweet which makes it great for breakfast and with ice cream for dessert. I had to make a few changes based on what I had on hand. Only had 4 tbsp of butter so added some applesauce, and peaches instead of nectarines oh and lemon zest instead of orange. I am going to try again just as written.

Delicious! I used lemon zest instead of orange, because the one orange I had looked a bit sad - besides, lemon and blueberries just go together well. The topping is absolutely deliciouos, but I would reduce the butter slightly next time to 2-3 tbsp. Otherwise, it's perfect as is! Made for PRMR Tag. Thanks, JackieOhNo!