Blueberry Bread Puddings With Lemon Curd
Ceezie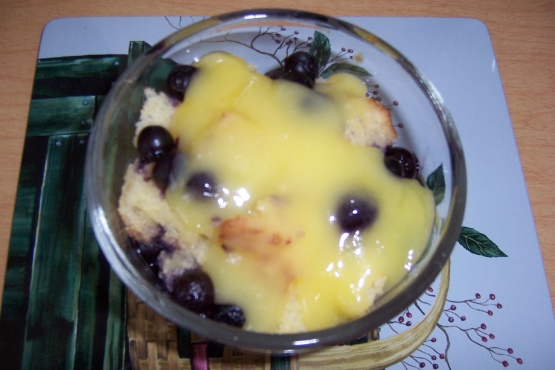 Tart lemon curd tops individual bread puddings laced with berries. Fresh blueberries also work well in this recipe. Prepare the lemon curd while the puddings bake. Time includes minimum 30 minutes for chilling and 30 minutes for baking. From Cooking Light November 2002.
This was very good! I cut it in half, using 2 medium-large eggs. I used 1% milk, and somewhat stale French bread. I also used fresh blueberries instead of frozen. I didn't make the lemon curd, as I had some homemade in the fridge. It wasn't very difficult to make other than I find Bain Maries a bit too much bother for everyday use. Nevertheless, I would make this again--I love the combination of lemon and blueberries. Thanks so much for posting, KelBel!
To prepare puddings, combine first 4 ingredients in a large bowl, stirring well with a whisk. Add bread, tossing gently to coat. Cover and chill 30 minutes or up to 4 hours.
Preheat oven to 350°.
Divide half of bread mixture evenly among 8 (6-ounce) ramekins or custard cups coated with cooking spray; sprinkle evenly with 3/4 cup berries. Divide remaining bread mixture among ramekins; top with 3/4 cup berries.
Cover each ramekin with foil. Place ramekins in a 13 x 9-inch baking pan; add hot water to pan to a depth of 1 inch. Bake, covered, at 350° for 15 minutes. Uncover and bake an additional 15 minutes or until a knife inserted in center comes out clean.
To prepare lemon curd, combine 1/3 cup sugar and 1 egg in a small saucepan over medium heat, stirring with a whisk. Cook 2 minutes or until sugar dissolves and mixture is light in color, stirring constantly. Stir in lemon juice and butter; cook 2 minutes or until mixture coats the back of a spoon, stirring constantly with a whisk.
Place saucepan in a large ice-filled bowl for 5 minutes or until lemon curd cools to room temperature. Serve lemon curd over warm bread puddings.