Blueberry Bread Pudding With Caramel Sauce
Ceezie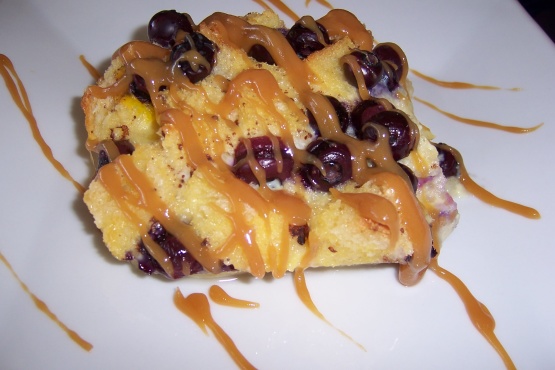 This is a low fat version that is made with skim milk and Egg Beaters. This is one of the best bread puddings I have ever had. I make this at Easter every year and get rave reviews.
In a large bowl, blend together milk, egg, sugar, vanilla and cinnamon. Set aside. dump the bread cubes in the bowl and let soak for a few minutes. Place this mixture into a greased 8x8x2-inch baking dish; sprinkle with blueberries.
Bake at 350°F for 1 hour or until set. Serve warm with caramel sauce.
To make caramel sauce; heat milk and caramels until caramels are melted, stirring frequently.