Bayhill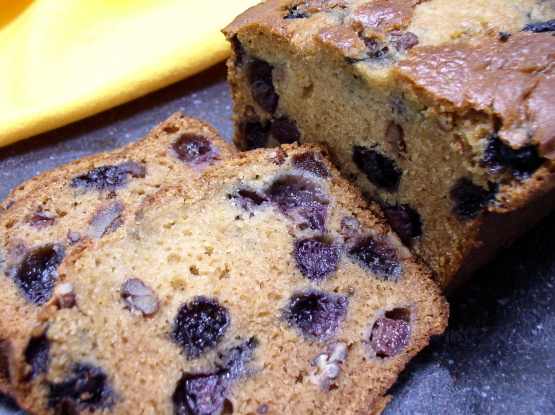 I had just picked several pounds of blueberries and was anxious to try some new blueberry recipes when I was given an old cookbook from a local church. As I was reading through the cookbook I came across this bread recipe. This is delicious and so moist--you may want to eat it with a fork!
We really enjoyed this delicious blueberry bread. It is different than most blueberry breads I've had (maybe it was the nuts), but it was quick, easy, and moist. I didn't have sour milk, so I added 1 TBSP. lemon juice to a measuring cup and added milk to measure 1 cup. I stirred and let it stand for 5 minutes. I used lemon extract instead of the vanilla, and pecans for the nuts. Also, I added about 1-1/2 tsp. grated lemon zest to the batter because I think that lemon and blueberry go together so nicely. This was wonderful served warm and spread with butter. Thank you for sharing this great recipe. *Made for 2009 Spring PAC*
In a large bowl, mix ingredients in order, mixing each ingredient as you add it.
Pour batter into greased 9x5x3-inch pan with wax paper in the bottom.
Bake at 350 degrees for 40-50 minutes. Turn oven off and let stay in oven for 10 minutes. Freezes well.
*Refrigeration recommended due to moistness of bread.