Prep 15 mins
Cook 25 mins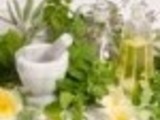 These are moist and full of berries. I found in my GI diet cookbook; a great healthy snack!
Directions
Preheat oven 350°F.
Combine All Bran and Wheat bran together.
Stir in buttermilk and let sit for 5 minutes.
Stir in liquid eggs, oil and vanilla; set aside.
In separate bowl combine flour,Splenda, baking soda, baking powder and cinnamon.
Stir into cereal mixture just until moistened. Stir in berries.
Divide batter among muffin tins.
Bake 25 minutes or until tester inserted comes out clean.
Can be frozen.
Tip; Frozen berries work.
Most Helpful
Berrylicious! I've made bran muffins following the recipe on the All-Bran box before but these are much better! I had never used wheat bran and found it in the bins at Whole Foods. It's so light that the cost for a cup was seven cents! Substitutes: I don't have canola so used grapeseed oil; didn't have liquid eggs so used one egg plus one egg white; I used half blueberries and half dark cherries; also I used low-fat buttermilk. Thanks for a great recipe!

Have to admit that I routinely save the last bits of my All Bran just for the opportunity to make bran muffins. So when I saw this recipes which adds my favorite summer fruit I had to give it a try. The muffins were easy to prepare and went according to the directions. My one change of note is that I used z-Sweet a natural no calorie sugar replacement that I find bakes a bit better and has no aftertaste. On the first day the muffins we good with a pleasing crispy outside and soft moist center. That said they were just outstanding after left overnight which is often the case with bran muffins. They were more tender and the flavors really blossomed with a wonderful marriage of the brans, berries and cinnamon. For me the overnight rest is more than a suggestion and a must for a spectacular breakfast treat or snack. With three quarts of blueberries now frozen I will be making these again and again each time I get to the bottom of my All Bran. Thanks Sage!