Pam C.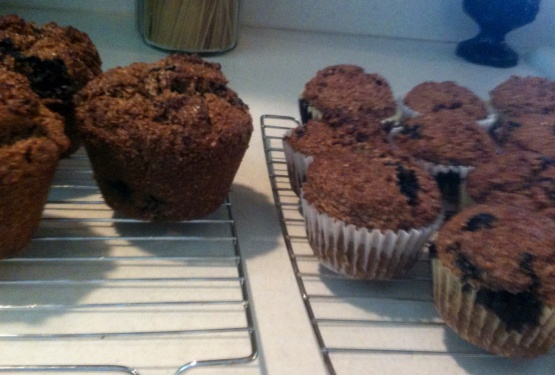 This recipe is from Bon Appetit June 2007 source is the Ristretto Roasters in Oregon. This recipe calls for muffin pans with 1 cups muffin cups. If you use a standard muffin pan (with 1/3 cup muffin cups), bake the muffins for only about 30 minutes. Using the smaller pan will make about 24 muffins.
Preheat oven to 350 degrees. Spray 12 1-cup muffin cups with nonstick spray.
Whisk flour, salt, baking soda and baking powder in medium bowl.
Whisk sour cream, sugar, oil, molasses and eggs in a large bowl.
Add wheat bran and stir until almost blended.
Add frozen berries and stir until evenly disrtibuted.
Divide batter equally among prepared muffin cups, about 2/3 cup each.
Bake muffins until tester inserted into center comes out with a few moist crumbs attached, about 37 minutes. Cool 10 minutes. Transfer to rack and cool completely.
Can be made 8 hours ahead. Let stand at room temperature.