Blueberry Banana Happy Face Pancakes
karen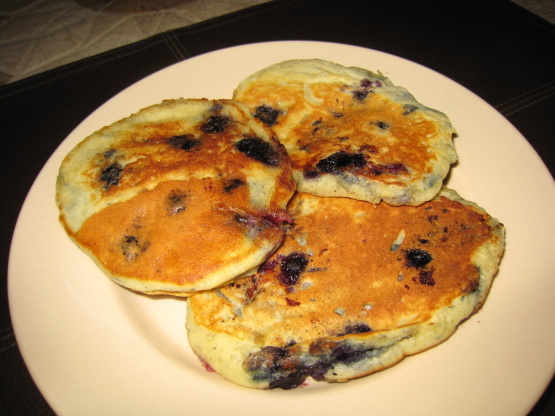 This recipe is from the Company's Coming Cook for Kids cookbook. I have to double the recipe for my husband and two boys. If there are leftovers, I freeze them and warm them up in the toaster on a morning when we're in a rush.

Delicious! These taste like a muffin in pancake form! My DH and 16 month old DD LOVED them - and BONUS - they taste great WITHOUT syrup too :-) Due to an allergy I made these with plain soy milk and it did not in any way compromise the flavor. I had the same problem with the center not getting very done and the outside getting overdone so I just sprayed a little extra cooking spray on my skillet and turned my fire down a little more and problem fixed! The only negative is that this recipe only made 5 medium sized pancakes! Double it if you're cooking for more than just yourself! I am also going to try another user's suggestion of freezing these and heating them up in the toaster. Thanks for a new breakfast regular! UPDATE: Still making these for DD who is 30 months now and when I make them she wants them for breakfast, lunch, and dinner and then is upset when they're gone. Can't feel too bad about only 2 tsp of sugar, no need for syrup, and lots of fruit! My only complaint is that she won't share with me!!!
Stir first four ingredients in medium bowl.
Make a well in the center.
Beat next four ingredients in a small bowl.
Add to well.
Stir until just moistened.
If you are adding the blueberries to the batter, fold them in now.
Pour 1/4 cup into non-stick frying pan for each pancake.
Cook for about 30 seconds.
I you did not add blueberries to batter, arrange blueberries on pancakes in a happy face.
Turn pancakes over when edges start to dry and bubbles break on the surface.
Cook until golden.