Blueberry Applesauce (Vegitarian Friendly)
flower7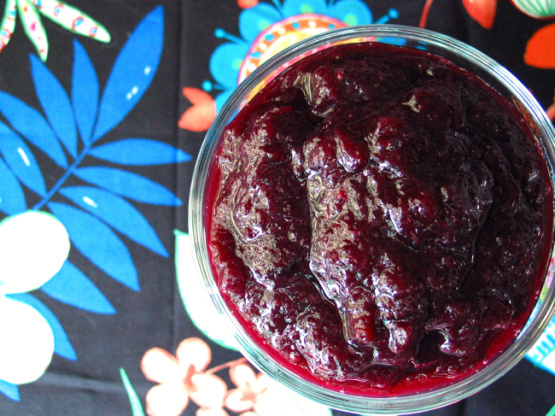 Inspired by Healthy Pick's Blueberry-Pomegranate Applesauce. I don't know if this tastes like Healthy Pick's because I've never sampled theirs. This is a copycat recipe in the sense that I copied the ingredients and embellished with my own. Please substitute another sweetener of your choice. Ingredient amounts are estimated. I had visions of blueberry pie dancing in my head while composing this recipe...

ahem. i made a triple batch. gone in 1 seating. nuff said.

I only used 4 apples but they equaled 2.5lbs! Used a better part of a bottle of pomagranate molasses. ;) This is absolutely delicious ~ a great variation of applesauce! Made for NA/ME Tag 9/12.
Place the apples, blueberries, cinnamon stick, lemon zest, lemon juice, pomegranate molasses and apple juice (or water) into a deep, heavy sauce pan.
Cover and bring to a boil.
Lower heat to simmer and cook until apples are very tender and the blueberries have dissolved and become saucy.
Set aside to cool.
Remove cinnamon stick. Puree the sauce to desired consistency either in a food processor or blender. Or-very carefully puree using an immersion blender. Be careful not to burn yourself because it hurts when the applesauce splatters!
Transfer to a storage container. Stir in the almond extract.
Taste the applesauce and if you think it needs sugar, go ahead and add some to desired sweetness.