Derf2440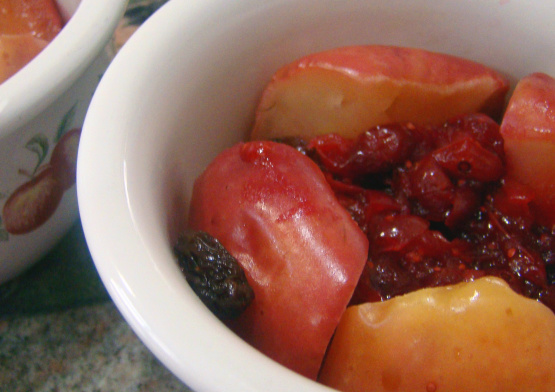 Our favorite dessert, made from fresh berries or from the berries in the freezer, in the middle of winter they are wonderful. (try other berries too, cranberries are great!)

This was so tasty! and really easy, too. The blueberries sort of pop and the apple sort of crumples and the sugar and butter make a yummy light caramel. I had to microwave about 5 minutes. Delicious with ice cream.
Core and quarter apple (Do not peel) Arrange standing around edge of buttered ramiken Mix together blueberries, brown sugar and vanilla Fill the centre of the ramekin with the blueberry mixture Dot the top with 2 teaspoons butter Cover ramiken with plastic wrap.
Pierce top of wrap once or twice.
Place ramiken on plate.
Microwave on high for 3 minutes, check and add 1 minute at a time until the apple falls.
Serve warm Top with a blob of whipped cream or vanilla ice cream.
Microwave one ramiken at a time Other berries can be substituted.
Diabetics leave the brown sugar out or use sugar substitute.