Blueberry and Raspberry Freeze
Rita1652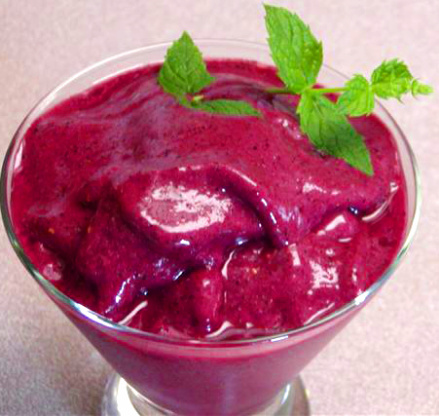 This is a low fat and no sugar recipe. The fat that is in here comes from the flax seed which is great for you and gives this sherbet a slight nutty taste. Make it for breakfast or have it as dessert. It's a wonderful replacement for ice cream. This is made with frozen berries. Sugar or Splenda may be added to taste if berries are not sweet enough. I myself like the tartness.

Wonderful! Blueberries and raspberries are our favorite combo. Fast and easy. Doubled the recipe to make enough for all the kids. We used milk instead of water and only needed half the amount. Added a quick squeeze from Mr. Honey Bear. Thank you much! We will make this a lot. Made for my Babes for ZWT4.
Place all into a blender and blend till frosty smooth.
Enjoy.