Blueberry and Cinnamon Muffins
aliu2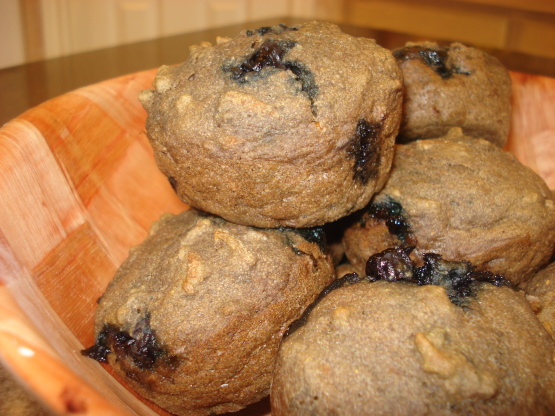 Moist and soft with just a hint of cinnamon. I took a basic muffin recipe from a website, not too sure which, and changed it up a whole bunch. I always use two little cups of Mott's Healthy Harvest Applesauce in Blueberry Delight and Land O' Lakes Light Butter for this recipe. You can eat it cold, but it really is best when warm. I hope you enjoy!
Combine egg substitute, milk, melted butter, applesauce, 1/4 cup water, and crushed cereal in a bowl and stir until cereal is moist.
Let stand for 10-15 minutes.
Meanwhile, in a medium bowl, combine flour, baking soda, baking powder, and Splenda and stir to mix together.
Preheat oven to 375°F.
Lightly spray a 12-cup muffin tin with non-stick spray.
Add flour mixture to the moist bran mixture and stir gently until blended.
Add the remaining 1/4 cup of water and stir until you get a cooked-oatmeal-like consistency, add more water as needed.
Gently fold frozen blueberries into batter right before cooking.
Spoon batter evenly into muffin cups and bake for 25 minutes or until a toothpick inserted into the center of a muffin comes out clean.
Remove from oven and allow to cool in pan. Best eaten when warm. Enjoy!