Thorsten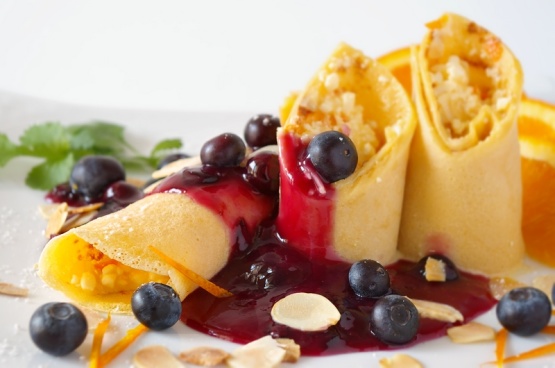 I finally made this recipe for myself after having it posted for a year. It was easy, wonderful, and as Thorsten said- "elegant". I am glad I posted it!

I made the Crepes today for a very special afternoon break. There were absolutley delicious. I followed the directions and the crepes were wonderful in taste and so easy to make. The filling is not too sweet and the cottage cheese adds some freshness, whereas the orange zest give a fruity touch, which balance well the almonds and blueberries. The blueberry sauce - alos very easy to make - was a hit. Fruity, not too sweet and with full of all the bluebrry flavours. I used fresh and put some aside for decoration. The toasted almonds again reflect the flavour of the crepes and the roasting emphasizes the nutty notes. The flavours in this crepes recipe are very well balanced, not flavour dominates the others. A dessert, which will receive rave reviews, because it is easy, elegant and delicious. Thanks for sahring.
First 5 ingredients are for crepes. To prepare Crepes:.
Together mix all crepe ingerdients until smooth.
Spray crepe pan or whatever pan you are using, with non-stick cooking spray; heat over medium heat until hot.
Add about 3 tablespoons batter to pan, tilting to make an even layer.
Cook on one side until crepe begins to brown, about 1 minute.
Place on a sheet of waxed paper, browned side up.
Repeat with remaining batter; layering the crepes with waxed paper.
To prepare filling:
In a blender container, place cottage cheese, egg yolks, 3 tablespoons sugar and orange peel; mix until well combined.
Add chopped almonds; mix until smooth; set aside.
To prepare blueberry sauce:
In a saucepan combine the remaining 1/2 cup sugar and the cornstarch.
Stir in orange juice and blueberries.
Over medium-high heat, bring to a boil, stirring constantly; cook and stir until thickened and clear, about 1 minute.
To assemble:
Place 2 rounded tablespoons of filling on each crepe.
Roll and place on a lightly greased baking sheet.
Cover and refrigerate until ready to serve.
At serving time: Preheat oven to 300 degrees Fahrenheit.
Bake filled crepes until hot, about 15 minutes.
Top with blueberry sauce, sprinkle with toasted almonds and, if desired, a dollop of sour cream.