Blueberries or Raspberries With Cream
Derf2440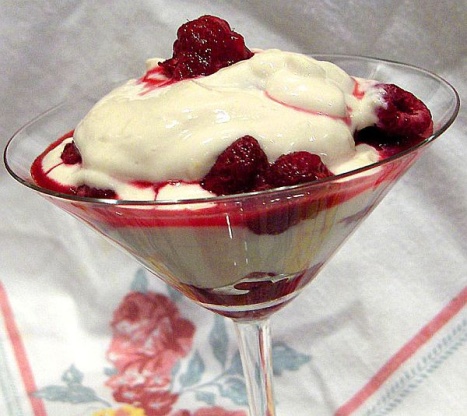 Dr. Weil's, My Optimum Health Plan is where I found this recipe. When you blend the vanilla yogurt and reduced-fat cream cheese it creates a topping that is as virtuous as it is delicious.

This tastes amazingly good... very rich and creamy... however, it is nowhere near 4 servings... I served three and it was a very skimpy 3 servings... next time I think I'll add some whipped cream to it to give it some volume.. Yes, there will be a next time. Thanks for the keeper recipe!
In a mixing bowl, add cheese, yogurt and honey.
Using an electric mixer, beat at high speed until light and creamy.
Stir in lemon zest.
Layer lemon cream and blueberries or raspberries in dessert dishes or wineglasses.
Garnish with a sprig of mint.