Blue Ribbon Stuffed Mushrooms
Leslie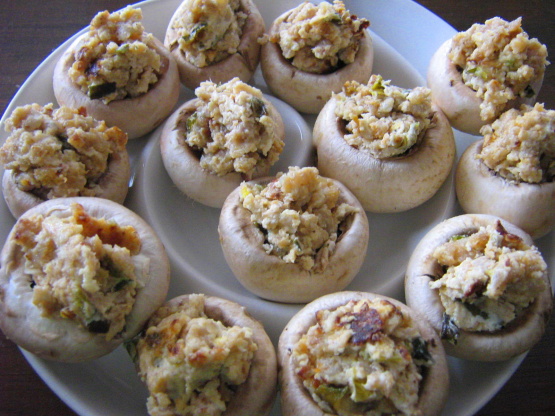 These very easy mushrooms won a blue ribbon at the Arizona State Fair in the early 90's. These are great appetizers or even for a meal itself.

I made 48 of these Sunday night thinking they would last all week as appetizers/snacks/side dishes to the rest of our week-day dinners. My husband and three kids devoured them so fast, I had to steal one from my 1 year old's plate to get one of my own! Needless to say, this will be a regular menu item for our family. I used Jimmy Dean sage sausage and Toffuti cream cheese (4/5 of our family have lactose protien allergies) and skipped the parm. cheese. They were delicious! Oh, and my youngest (1 year old) and I had the leftover stuffing and sauted mushroom stems in an omlet for dinner the next day as you suggested. It too was delicious!
Brown pork sausage and crumble well.
Drain sausage from skillet leaving a thin coating of oil behind and sauté chopped onions until slightly wilted.
Return sausage to pan with onions and add cream cheese.
Over low heat stir sausage, onions, and cream cheese until well blended.
Remove stems from mushrooms and stuff each mushroom cap with the mixture.
Top with parmesan if desired.
Bake at 350°F for 20-25 minutes until heated through and the mushrooms are beginning to leak their water.
Note: Sauté mushroom stems and use any leftover filling in an omelette.