Blue Ribbon Mile High Lemon Meringue Pie
2Bleu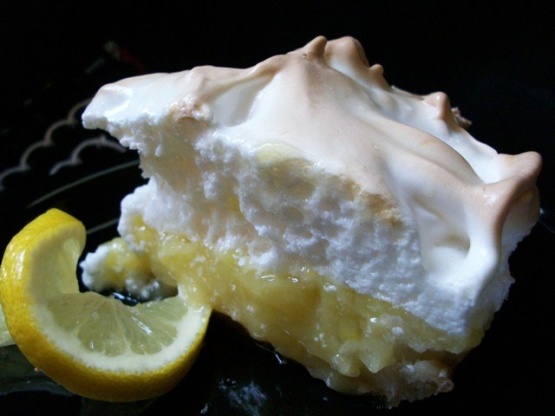 I am a "LMP" fiend. The secret to a spectacular never-fail LMP is using 6 eggs. Once I made this version by Harriett Westman from "Blue Ribbon Winners: America's Best State Fair Recipes", this became my signature dessert. I adjust my portion size to the number of WW points left for the day; I calculate 1/8 of a pie as 10 points. Please allow 4 hours for cooling before serving. With 6 egg yolks, this is indeed a rich Southern custard filling with lemon juice added. For a more pronounced lemon flavor, use juice from up to 5 medium-size lemons, and reduce the water correspondingly; I have only made the standard recipe, which our family likes a lot.
I really enjoyed this pie, but as others have stated the filling was too sweet. I followed the recipe as written, but must have done something wrong, as there was a lot of watery liquid on top of the filling below the meringue after it cooled. I'm wondering if maybe the filling was cooked too long? (3 minutes seemed long to me.) I made two crusts, so I will probably try again with the second crust and use Splenda instead of sugar, also reducing the amount to 1 cup. Otherwise, the flavor was wonderful, and the meringue was great too!

Note: After another attempt from a different recipe I had at home, I can say the most important thing here is to have the filling at a full boil before putting on the meringue. Also, bake the meringue at 325F for 20 min. and you should get better results. The other recipe cooked the cornstarch with a little water before adding it to the egg whites, and I liked that flavor better.
BAKE 9-INCH FLUTED PIE SHELL:.
Preheat oven to 400°F (205°C).
Fit the crust into a pie plate and flute the edge.
Prick the bottom and sides of the crust with a fork.
Bake at 400°F (205°C) for 5 minutes.
Allow to cool while preparing rest of recipe.
PREPARE LEMON FILLING:.
In a medium-size heavy saucepan, mix 1-1/2 cups sugar, cornstarch, flour and salt.
Gradually add water, stirring until well blended.
Bring mixture to a boil over medium heat, stirring constantly; cook 3 minutes.
Remove hot mixture from heat.
Slowly pour about half of mixture into slightly beaten egg yolks, stirring constantly.
Slowly pour egg yolk mixture back into hot mixture, stirring constantly.
Return saucepan to heat.
Bring to a boil, stirring constantly, and cook 3 minutes more.
Add lemon peel, lemon juice, and butter.
Cook about 2 minutes more, stirring with a rubber spatula in a circular motion. DO NOT LET MIXTURE STICK TO BOTTOM OF PAN. Filling will be very thick and spatula will leave a track when drawn through filling.
Cover saucepan and remove from heat; keep warm.
PREPARE MERINGUE:.
Preheat oven to 350°F (175°C).
In a large bowl, beat egg whites and cream of tartar until foamy.
Beat in 3/4 cup sugar, 1 tablespoon at a time.
Beat in vanilla extract with the last tablespoon of sugar.
Continue beating until egg whites hold a soft peak.
Set aside.
ASSEMBLE PIE:.
If filling has cooled, reheat, stirring constantly, before spooning into baked pie shell.
Starting around the edge of pie, spoon meringue over filling, making sure meringue touches fluting on pie shell.
Bake in preheated 350°F (175°C) oven 15 minutes or until meringue is golden brown.
COOL 4 HOURS BEFORE SERVING:.
Cool about 4 hours at room temperature before cutting.
Makes one 9-inch pie.