Debber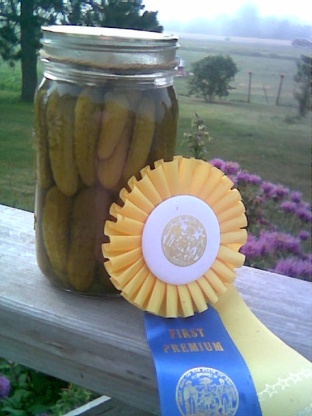 A good friend gave me this recipe many years ago after I munched down nearly a quart while visiting! I threw out ALL my other dill pickle recipes because THIS ONE is the best. Several years ago, it occurred to me to enter my pickles in the County Fair. So I did. Since I'm superintendent over in the Junior Foods & Nutrition Department, I don't get to watch the Open Class judging. So later in the day (after judging in both classes was over), I went to see how my pickles (and other canned goods) fared [pun intended!]. I couldn't find my jar of pickles. They weren't on any of the shelves, neither were they in with the "disqualified" items. Hmmm. Then I spied them! Not only did they have a big blue ribbon on them, but they also received Best of Show AND the canning award! What a thrill!!! There's nothing like winning at the fair--amongst all those good cooks--to feel validated as a successful home-canner. NOTE: I did NOT list an amount for the cucumbers since I've never measured how many pounds I use--sorry! SERVING SIZE is the number of ounces in a quart jar--to facilitate nutritional information.

The method described in this recipe is called Low Temperature Pasteurization. According to the NCHFP's current guidelines, it results in a better product texture, but must be carefully managed to avoid possible spoilage. According to their directions, place jars in a canner filled half way with warm (120º to 140º F) water. Then, add hot water to a level 1 inch above jars. Heat the water enough to maintain 180º to 185º F water temperature for 30 minutes. Check with a candy or jelly thermometer to be certain that the water temperature is at least 180ºF during the entire 30 minutes. Temperatures higher than 185ºF may cause unnecessary softening of pickles. http://www.uga.edu/nchfp/how/can_06/low_temp_pasteur.html

For optimum shelf-stable safety of any fresh-pack dill pickles, the jars should be processed in a boiling water bath covered by at least an inch of water. Ten minutes for pints and 15 minutes for quarts. http://www.uga.edu/nchfp/how/can_06/quick_dill_pickles.html
GET ALL OF THIS GOING BEFORE FILLING THE JARS.
Wash 7 quart jars in hot, soapy water (or dishwasher), rinse and fill with hot water; set aside.
Fill canning kettle half-full with hottest tap water; set on burner over high heat.
In a medium saucepan, fit lids and rings together, cover with water, bring to a simmer.
In a large saucepan, bring water, vinegar and salt to boil; turn off the heat; set aside.
FILL JARS: place a layer of dill at the bottom of each jar, along with one garlic clove (if used), then TIGHTLY load the cukes into the jar to the NECK of the jar (depending on size you may get two nice layers with a few small cukes in the top--)---squeeze cukes into the jar tightly--uniform size helps; add a few TINY spriglets of dill at the top, too, and another garlic clove if desired.
Once jars are loaded, pour in the brine leaving half-inch head space in each jar.
Add lid and ring to each jar, tightening evenly.
Place jars into canner with water JUST to the necks of the jars.
Bring water ALMOST to a boil (about 15 minutes--depending on how fast it heats up).
Remove jars, set on a dish towel on the kitchen counter, cover with another dish towel & let cool.
Check for seal (indented lid), label jars or lids, store in cool dark cellar or cupboard.
NOTES: When washing/scrubbing cukes, sort them into piles by size. This really helps make your jars look nicer, if you have uniform sizes (and this impresses the judges too!). And makes for easier packing, too.