Blue Plate Meat Loaf With Mushroom Pan Gravy
lazyme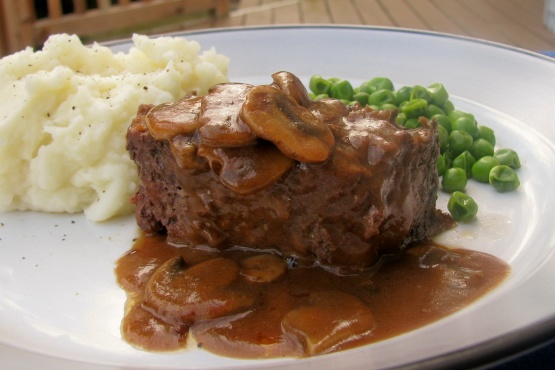 Blue Plate optional. This meatloaf is comfort food to the max. It will take you right back to your childhood. Williams Sonoma: American
This is the first meat loaf I made back in the 50's. This is the way meat loaf should taste. I had forgotton, with all the changes that have been made to the good old loaf. The gravy is devine with a meatloaf. I never used mushrooms, but they are a great addition. I did add some horseradish and used all beef, had no gr. pork, but this also makes it very good. Next time will only use 1 egg, felt 2 took away from the texure. fried loaf sandwiches next day, so good. Thank you so much for posting, this will now be my only loaf once again.
Preheat the oven to 375°F Lightly oil a 9-by-13 inch flameproof baking pan. In a large bowl, combine the onion, oats, the 1/2 cup tomato sauce, the eggs, Worcestershire sauce, 1 teaspoons salt, and 1/4 teaspoons pepper. Stir to mix thoroughly. Add the ground meats and mix well with clean hands. Rinse an 8 1/2-by-4 1/2-inch loaf pan with water and pack the meat mixture into the wet pan. Unmold the meat mixture into the prepared baking pan.
Bake for 1 hour. Spread the 3 tablespoons tomato sauce over the top of the meat loaf and continue baking until an instant-read thermometer inserted in the center of the loaf registers 165F, about 10 minutes longer.
Meanwhile, melt the 1 tablespoon butter in a skillet over medium-high heat. Add the mushrooms and cook, uncovered, stirring from time to time, until lightly browned, about 8 minutes, set aside.
Using a large spatula, transfer the meat loaf to a platter and cover loosely with aluminum foil. Spoon off the clear yellow fat from the baking pan and measure it. Add melted butter as needed to make 2 tablespoons. Return the 2 tablespoons fat to the meat juice in the baking pan and place on the stove top over medium-low heat. Whisk in the flour until smooth to make a roux. Let bubble for 1 minute. Whisk in the stock, then scrape up the browned bits from the pan bottom. Bring to a simmer over medium-high heat, whisking often. Reduce the heat to medium-low add the reserved mushrooms, and simmer until lightly thickened, about 5 minutes Season to taste with salt and pepper.
Slice the meat loaf and serve hot, garnished with thyme and drizzled with gravy.