Blue Pineapple Fried Rice
Kitty Z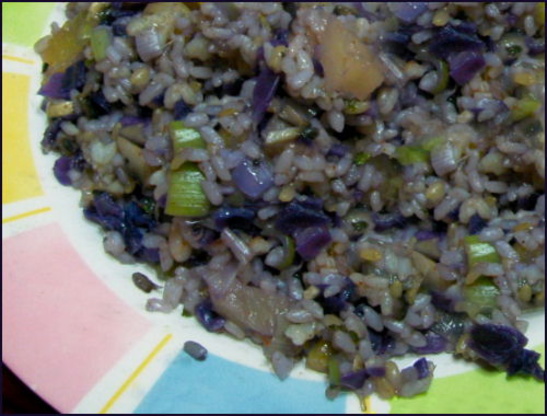 This started out as a humble leftover stir-fry, but has taken on a life of its own. If you don't like blue food, replace the red cabbage with a vegetable of your choice. Serves 4 as a side dish, or two for dinner with fried egg on the side.
Drain pineapple, reserving liquid. If necessary, cut pineapple into small chunks.
Heat pineapple liquid in a deep frying pan. Add garlic and onions and cook about 2 minutes.
Put in cabbage and cook about 4 minutes.
Add rice, mixing well, until it had absorbed the blue color from the cabbage.
Stir in mushrooms and spices, cook until mushrooms are softened.
Add pineapple and shrimp, and cook, stirring, until pineapple is warm and shrimp is just cooked.