livie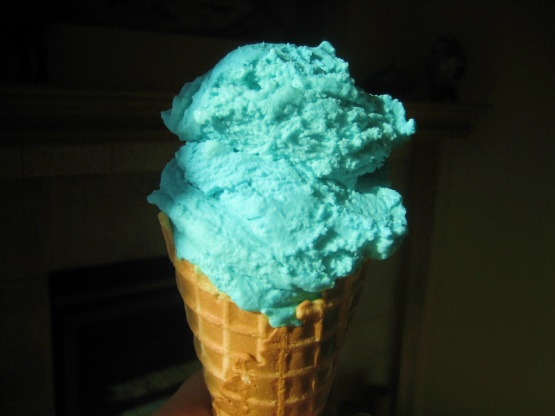 this is exactly like the blue moon ice cream that can be found in northern michigan at kilwins. Its also the same that i used to have in the summers as a kid in the 70's. there isn't any pineapple or alcohol in this!!
I first had Blue Moon Ice Cream at the House of Flavors in Ludington, MI back in the 1970s. We lived in the East Coast where it wasn't available, but would usually visit family every summer and I would look forward to the Blue Moon Ice Cream every year. I took my 2 year old son a couple of summers ago for the same treat. It made such an impression that he recently asked me to buy him some. No go in these parts. Thankfully I found this recipe. This recipe nails it. I can't discern any difference. My son is now 4 and asks for me to make it all the time.
1/2 Cup of milk scalded in pan.
add 1/2 cup of sugar and 1/4 tsp of salt. stir till dissolved.
add 1/2 cup of half and half.
add 11/2 cups of heavy whipping cream.
add vanilla, raspberry, lemon flavoring.
add blue food coloring.
chill in fridge till very cold.
put in ice cream machine!