livie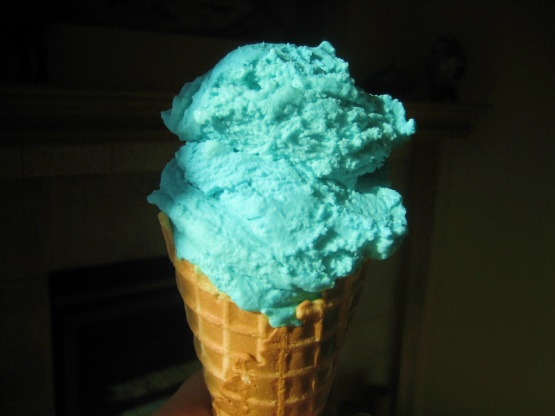 this is exactly like the blue moon ice cream that can be found in northern michigan at kilwins. Its also the same that i used to have in the summers as a kid in the 70's. there isn't any pineapple or alcohol in this!!
Off-flavor at the finish. The recipe skips the step of adding the pudding. It requires care to ensure the pudding mix doesn't clump up when you add it. Raspberry flavor was not available locally so I added raspberries and then strained it for seeds. I am sure this affected the outcome in that it added volume and changed the texture; this should have been addressed. I halved the lemon extract but it was still too lemon-y so I added more sugar, cream, and half-and-half. I used the regular (not gel) food coloring and the blue color looks like the soup from Bridget Jones' Diary.
1/2 Cup of milk scalded in pan.
add 1/2 cup of sugar and 1/4 tsp of salt. stir till dissolved.
add 1/2 cup of half and half.
add 11/2 cups of heavy whipping cream.
add vanilla, raspberry, lemon flavoring.
add blue food coloring.
chill in fridge till very cold.
put in ice cream machine!