livie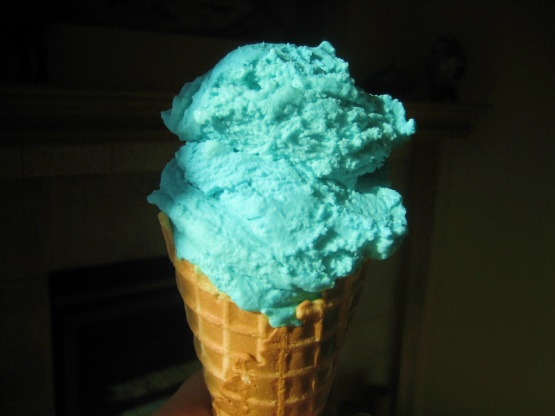 this is exactly like the blue moon ice cream that can be found in northern michigan at kilwins. Its also the same that i used to have in the summers as a kid in the 70's. there isn't any pineapple or alcohol in this!!
This is an awesome recipe - the first time I made it, I had raspberry extract and it was absolutely perfect. This time, I used raspberries instead. The lemon flavor is slightly overwhelming. Next time I might lessen the amount of lemon extract (1/2 tsp) if using fresh raspberries.
1/2 Cup of milk scalded in pan.
add 1/2 cup of sugar and 1/4 tsp of salt. stir till dissolved.
add 1/2 cup of half and half.
add 11/2 cups of heavy whipping cream.
add vanilla, raspberry, lemon flavoring.
add blue food coloring.
chill in fridge till very cold.
put in ice cream machine!