gerry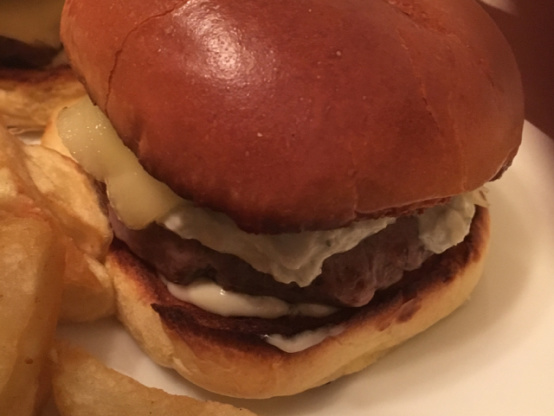 mmmmmmmmm Comfort food. We love the Blue Moon Burgers at a local diner. But after finding a deep-fried fly in my french fries, I refuse to go back!! We prefer our burger patties with no "fillers," just the beef and the toppings.

I seasoned the beef with a tablespoon of Worcestershire sauce and a tablespoon of McCormick's Grill Master seasoning before forming into patties. The blue cheese/cream cheese mixture could be enough for 6 burgers, so I will adjust when I make these again. These are great for when you just have to have a big, cheesy, yummy burger. Very satisfying!
Combine blue cheese and cream cheese and beat well.
Set aside to give the flavors time to meld.
Form the ground beef into 4 patties.
Salt and pepper, if desired, and cook as desired (we grill EVERYTHING in Arizona!).
When burgers are done, add 1/4 of the blue cheese mixture to the top of each burger.
Top with a slice of jack cheese.
Spread mayo on toasted buns.
When jack cheese is somewhat"gooey," place burgers on buns.
Add remaining toppings.
Don't use ketchup!
Ketchup and blue cheese do NOT go together!