Blue Crab Dip Like Joe's Crab Shack
Hey Jude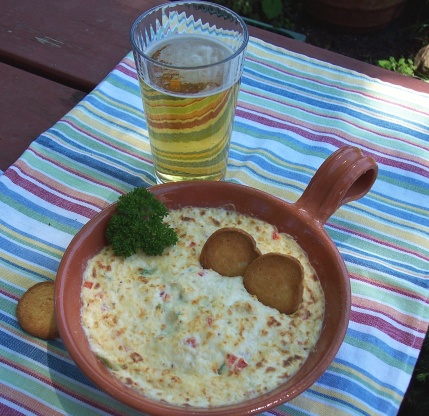 A must make, extremely addictive and hard to stop eating. This is requested often.

This is probably the best crab dip ever! I would give 10 stars if I could...The instructions were a little bit abiguous, so I improvised. I added one large clove of garlic to the green onions...Also added a splash of sherry to the white wine...Used 2 tbs of horseradish ground mustard, and I did not have liquid crab boil on hand, but looking at the ingredients, used 1/2 tsp of cajun seasoning which is essentially the same. Try this, you will not be disappointed! Thanks so much for sharing, Homegirl! --Marla
Fold all ingredients together except 1 T Parmesan cheese.
spread evenly into oven proof baking dish.
Microwave for 2 minutes.
Transfer to oven and broil till top is slightly browned.
Garnish with Parmesan and serve with Tortilla chips or toasted sourdough baguettes.
For a little more zing we add extra (about another 1 t) crab boil, be careful--it can add quite a kick!