Blue Cheese With Arugula, Caramelized Onions and Nuts
Hey Jude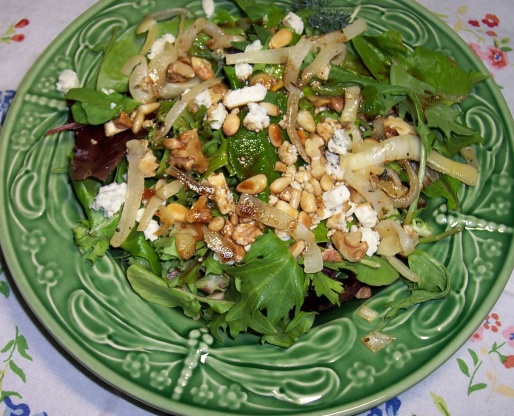 OK arugula lovers this ones for you! If not you can use spinach. I've also added fresh slices of clementines and or raspberries. Yummy my mouth is watering!

Very good and very simple. I love arugula, it has such a unique taste, and it paired well with the blue cheese. The walnuts were an especially nice touch to give it extra, unexpected flavor and texture. Plus it looks really sophisticated! I will definitely be making this again.
In a container mix olive oil, vinegar, and garlic; give a shake and set aside.
Adjust your oil vinegar ratio to your liking.
Arrange arugula leaves and basil on on a plate.
Top with cheese, nuts, and caramelized onions.
Drizzle dressing over salad and season with salt and pepper.