Blue Cheese Stuffed Fingerling Potatoes
iris5555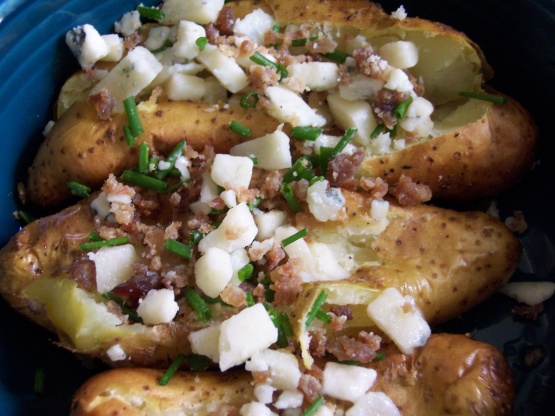 I bought some lovely fingerling potatoes at the farmers' market and in looking for a different recipe for them, found this on-line on a potato growers' website.

Top Review by GaylaJ
Wonderful, wonderful! I took a shortcut, and rather than brushing the potatoes with oil, I just lined them up on a baking pan, drizzled olive oil over them, sprinkled with kosher salt and freshly-ground pepper, then tossed everything with my hands until evenly distributed. I'm sure I used a lot more oil this way, but... oh well. :) I subbed finely chopped green onions for the chives. These went perfectly with our steaks--thanks for posting the recipe!
Preheat oven to 425°.
Wash potatoes in cool water, pat dry, and brush with olive oil.
Place potatoes in a glass baking dish.
Sprinkle with salt and pepper and bake in center of oven for 20 minutes or until golden brown and tender. (Mine took longer.)
Remove from oven, and with a knife cut an X on the top of each potato.
Gently squeeze sides of potatoes until centers spread out to form a small well.
Stuff a small amount of blue cheese, bacon and green onion into the well of each potato.
Serve immediately.