Blue Cheese Potatoes Au Gratin
VLizzle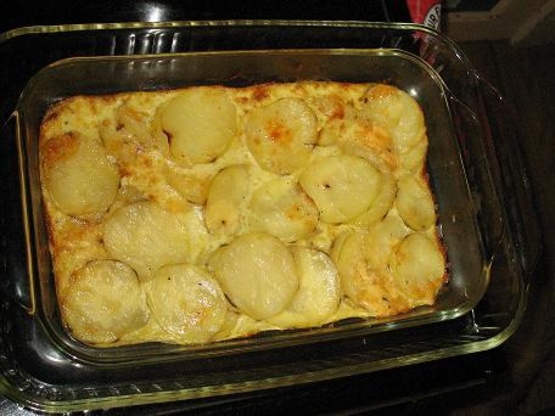 © Larry Ervin - http://french-cooking-techniques.suite101.com/article.cfm/blue_cheese_potatoes_au_gratin This easy recipe elevates everyday au gratin potatoes to a dish you'll be proud to serve to company or take to the next potluck. A bain-marie (water bath) does the trick. Get beyond bland au gratin potatoes. Blue cheese is the secret ingredient. Bleu d'Auvergne is a great one, but any good blue-veined cheese will serve well. This easy recipe employs a water bath technique that ensures perfect results. I have altered the original recipe slightly to my liking. I recommend serving this with Recipe 24623 - http://www.recipezaar.com/24623
Preheat the oven to 450°F.
You need a 7x11 baking pan plus a larger one with 2 sides for the water bath.
Put some water on to boil -- the amount depends on your pans. You'll need enough to fill the larger baking pan with about an inch of water when the smaller pan is in place.
Butter the smaller baking pan.
In a large bowl, mix the eggs, cream and cheeses until well blended.
Taste and adjust the seasoning as necessary. Both cheeses are usually quite salty so watch the amount of salt you use.
Fold the sliced potatoes into the cheese mixture.
Spread the mixture into the buttered pan and cover with aluminum foil.
Place the pan with the potatoes in the larger pan and set it on the oven shelf.
Carefully pour hot water into the outer pan so that the water is about an inch deep.
Bake one hour.
Remove the cover and bake until the top is golden brown, about 15 minutes.