Blue Cheese Potato Gratin
Julesong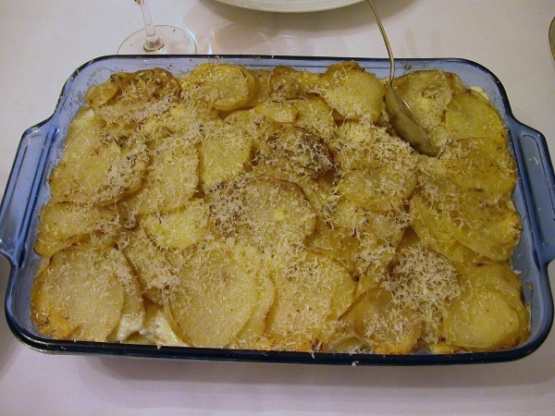 These were a rich, wonderful addition to our Maple Vinegar Crispy Chicken #118864 dinner at Culinary Communion. They're even better the next day! Posted with permission.

Can I give more than 5 stars? These are fabulous. I came looking for a recipe after having Blue Cheese Au Gratin at Wolfgang Puck's. These are darn close and so very easy. I made these for Xmas Dinner to accompany Prime Rib. Fabulous. Many compliments. I added lots of blue cheese and I was worried the taste would be too strong, but they were fab. Thanks so much, Biker Chick... these are amazing!
Preheat oven to 350 degrees F; lightly butter or oil a 9"x13" baking pan.
Rinse the potato slices in cold water then pat dry.
You're going to make three layers of potato slices, cheese/cream, salt/pepper: layer 1/3 of the slices in the bottom of the prepared pan, then top with 1/3 of the cheese, cream, salt, and pepper.
Repeat twice with remaining ingredients (except garnish).
Bake uncovered at 350 degrees F for 50 minutes or until the potatoes are tender and the top is browned and bubbling.
Sprinkle with freshly grated Parmesan, and serve hot.