Blue Cheese Pineapple Cole Slaw
Parsley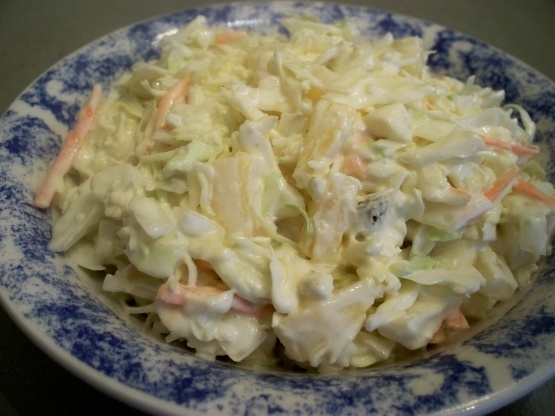 I love the tangy flavor of Blue Cheese and the sweetness of the pineapple in this yummy dish.

I made this tonight and I had to sit down and write a review immediately! This was a lovely combination of flavors, the creamy bleu cheese balanced the sweet of the pineapple and the crunch of the cabbage. I had fresh pineapple, so I used that instead of canned and skipped the pineapple juice as it was juicy enough on its own. Other than that, didn't change a thing. We had it with beer can chicken and our bellies are soooo happy! I agree with another viewer and think that the addition of some toasted slivered or sliced almonds would be a great add-in, but it was fabulous as is. Thanks, Maria.
Mix all except cabbage and pour over cabbage.
Toss/chill until served.