PetsRus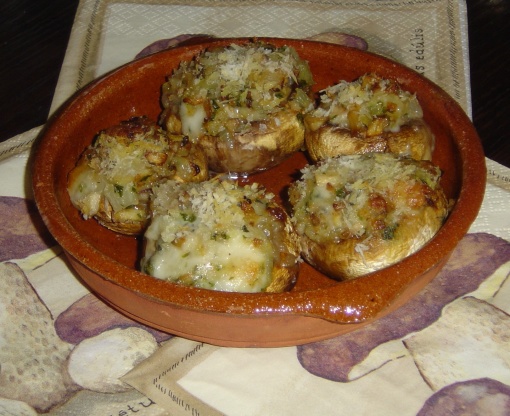 A tasty hors d'oeuvre. May be doubled or multiplied.

These went down a treat with guests, and are attractive too! I particularly liked that I could make them in advance and pop in the oven just before I needed them. I used gorgonzola cheese and doubled the amount- neither my husband nor myself thought that the flavor of the cheese was all that apparent; would have liked more of it. Perhaps roquefort would be a better choice for us. Thanks for posting!
Remove and chop the mushroom stems.
Cook the stems with the onions in butter until tender and brown.
Mix together the 2 Tbs bread crumbs, cheese, salt and pepper; stir in the stems and onions.
Fill the mushroom crowns with the mixture.
Sprinkle all with the 3 Tbs crumbs.
Place on a baking sheet and bake at 350° 12 minutes.